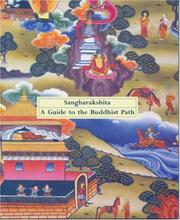 The Buddhist tradition, with its numerous schools and teachings, can understandably feel daunting. Which teachings really matter? How can one begin to practice Buddhism in a systematic way? This can be confusing territory. Without a guide, one can easily get dispirited or lost. Profoundly experienced in Buddhist practice, intimately familiar with its main schools, and founder of the Triratna Buddhist Community, Sangharakshita is the ideal guide. In this highly readable anthology he sorts out fact from myth and theory from practice to reveal the principle ideals and teachings of Buddhism. The result is a reliable and far-reaching guide to this inspiring path.
Subject: Buddhism: Introductions
Author: Sangharakshita
Paperback: 264 pages
Publisher/date: Windhorse Publications, 2011
Buy
Click here to buy this book online (we earn a small commission on sales).