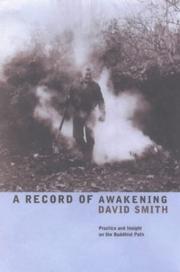 A Record of Awakening is the remarkable fruit of more than twenty years' immersion in Buddhist practice: a practice that has been both deep and far-reaching. In this book, David Smith, 'an ordinary working-class chap' who came across Buddhism, shares his extraordinary inner experience. Taking us through his journey- from initial practice in the Zen tradition and three years as a Theravadin monk to his recent years as a lay practitioner in East London – he describes the basic principles of his practice and the process whereby the 'tap root of ignorance' is cut and the Awakened Mind is born. His account reminds us that the Awakened Mind is within the reach of every one of us who is prepared to make the effort.
Subject: Buddhist Lives
Author: David Smith
Co-authors/Editors: Dh. Jnanasiddhi
Paperback: 160 pages
Publisher/date: Windhorse Publications, 1990
Buy
Click here to buy this book online (we earn a small commission on sales).