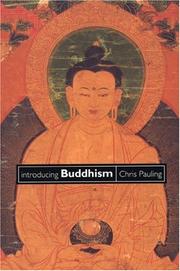 Offering an introduction to Buddhism for Westerners who want to learn more about the religion as a path of spiritual growth, this revised and restructured edition explains the essential teachings and practices on which all mainstream Buddhists can agree. It also sets out to show how this ancient wisdom is more than ever relevant to the psychological, social and spiritual issues concerning men and women in the modern West.
Subject: Buddhism: Introductions
Author: Chris Pauling
Paperback: 80 pages
Publisher/date: Windhorse Publications, 1999
Buy
Click here to buy this book online (we earn a small commission on sales).