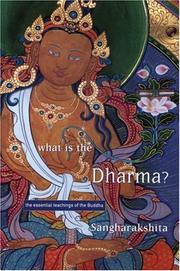 What is the meaning of life? How can we be truly happy? Buddhism answers these questions through the Dharma, which is a traditional term meaning both 'the truth' and 'the path', and is the subject of this book, which offers a starter-kit of Buddhist teachings and practices.
Subject: Buddhism: Introductions
Author: Sangharakshita
Paperback: 272 pages
Publisher/date: Windhorse Publications, 1998
Buy
Click here to buy this book online (we earn a small commission on sales).